I'm married to a college professor. I've watched his colleagues take sabbaticals and get some amazing work done. (He's never taken a sabbatical but maybe someday…) Not shockingly, I've been jealous of them. My to do list is always significantly longer than the hours in the day. Being on administrative leave could be compared to a sabbatical. I don't go to work. I don't do any work for my regular job. My days are completely free. I get to decide how to spend my time.
But there are so many uncertainties that I can't make this work like a sabbatical. This graphic from ThisIsIndexed fit how I'm feeling right now.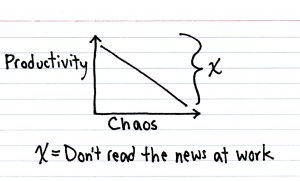 My brain can't stop spinning with fear, frustration, anger, and worry. I'm afraid of the worst case scenario, of course. I'm frustrated with how little control I have and how little I understand the process and what will/should/can happen. I'm angry that anyone could think this of me. I'm worried about my students and my teammates (not that I'm such a fabulous gift, but they're having to do extra work with me gone). It's not pretty in my brain right now.
Many years ago a close friend of mine was pregnant with her first child. She was also an elementary school teacher. She was a serious (or fairly serious runner). She was highly active. Her doctor told her they might have to put her on bed rest. Her first reaction was to panic, at least slightly. Bed rest sounded awful. What would she do with herself? So she made a to do list. It was pretty extensive, but the only specific thing I remember on it was that she was going to handcraft thank you cards for all the gifts for the baby. I do remember that it was a list of things she wouldn't have really cared about otherwise. A list made to keep her busy.
As it turned out, she didn't need to go on bed rest. Her reaction to that? Panic at how she wouldn't get all the things done on her to do list! The to do list that was created just to keep her busy.
I made myself a to do list. It's actually things I keep wishing I had the time to do: reorganize a few of our closets, clean out the pantry, clear the top of my desk, etc. So far I've completed 12 of the 19 things on the list (but I keep adding to it). Two others are nearly finished. I'm looking at that as a silver lining. (Although my oldest did come home recently to find that I'd emptied the entire pantry and laid it all out on the table. I wanted to know what items folks would actually eat and what I should get rid of before putting things back. She walked in the house, saw this, and said, "You have to go back to work!")
I am both hating and loving this time. I wish I could let go of the frustration and fear enough to truly enjoy this as a gift of time to accomplish things long desired, but I can't. I can get the things done, at least mostly, but I am not finding the satisfaction and joy in it that I would like.
(Written in mid-January.)