(I'm still questioning that title…see my disclaimer.)
I have spent my entire career teaching students who do not look like me and whose lives have been quite different from mine. It has been a gift as I have learned so much from them and their families. There is no question in my mind that my teaching experience has greatly shaped who I am as a teacher. I am confident I am a better teacher now than I would be if I had spent my career teaching students like my own daughters (who I do love and adore).
One way I believe this is true is around the literature I choose for our classroom. I want to believe that I would feel equally as strongly about diversity in books if I taught in a school full of white, middle-class kids, but I'm not certain of it. The teacher I am now knows the importance of this in every classroom and for every student. The teacher I might have been could have missed that.
We're on our third read aloud of the year. We began with Juana and Lucas. I read it to my students last year as our first book and they talked about it all year. (Partly, I'm sure, because Juana Medina, the author and illustrator, always responded to our tweets.) So it was an obvious choice to kick off this year. It's definitely something of a mirror book for my kiddos (thank you Dr. Rudine Sims Bishop for that understanding.) The main character speaks Spanish and learns English. She is about the same age as my students. She lives with her mom and spends a lot of time with her grandparents. The book is a fun read while also giving us lots to think about and discuss.
Our second read aloud was Rad Girls Can by Kate Schatz and Miriam Klein Stahl. Last year, much later in the year, I read their book, Rad Women Worldwide. I loved that book for the global nature, offering my students the opportunity to learn about women similar to them and different from them. Rad Girls Can is new but excited me because all of the people in it did something inspiring before they were twenty. That seemed like a mirror for my students in an unusual way. At least unusual when it comes to nonfiction. Fiction offers them plenty of inspiring kids. Nonfiction is a bit more challenging. I am trying to balance fiction and nonfiction better in my read alouds this year. It's always a goal…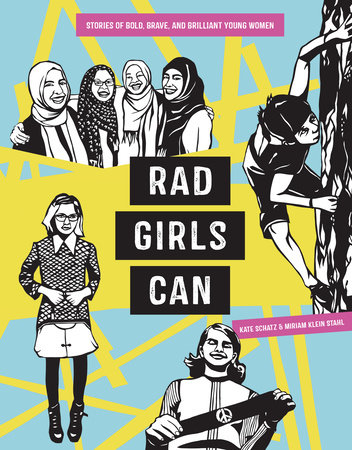 Our current read is Princeless: Save Yourself by Jeremy Whitley and M. Goodwin. It's a comic book (or, I think, a few issues of a comic book put into a book). The main character is a princess who has been placed in a tower by her parents. As have her older sisters. She is guarded by a dragon. She decides to rescue herself and her sisters with her dragon's help. The book explores, not surprisingly, issues of sexism (in fact we'll start the chapter titled, Sexism in the Armor Industry today so we had a brief discussion of the meaning of that word yesterday) but also issues of race as Princess Adrienne is a woman of color, something she discusses with a knight who comes to rescue her. He calls out, "Fair princess" and she lets him have it with an impassioned explanation of the word 'fair' in this instance. It's hilarious but it is also thought-provoking.
I don't know what our next read aloud will be but it will be chosen carefully.
What I've come to realize, more slowly than would have been expected, is that I while I choose books to be sure my students have mirrors, I am also choosing books to help them become critical readers and participants in society. I am trying to choose books that will help my students question the world they live in. I want them to consume media with a critical eye. The books I choose and the conversations we have will, I hope, encourage that.